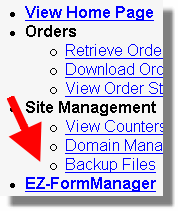 The next two fields are associated with a separate tool called EZ-FormManager.  This feature, which is part of the "Administrative Tools," may not be included in your tool package.   Look for the link labeled "EZ-FormManager" under the "Administrative Tools" tab.  If this link does not appear and you would like to use this tool, then contact your EZ-NetTools Reseller for more information.
Make Form Secure: When this box is checked all the data submitted on the form will be transmitted securely and the email notification will only contain minimal information about the form.  You will only be able to view the data submitted on the form by using the EZ-FormManager tool, which is a secure connection.  In this case, no data is sent via an email, which is not secure.
Key Field Name: This information is used in conjunction with the EZ-FormManager tool.  While this is an optional field, you will quickly learn that it is a very useful field.  In EZ-FormManager all of your forms are listed.  You will likely find it very helpful to have a way to identify each of the forms in the list.  The key field you select will depend on the data in your form.  For example, you may want to identify the form by the name of the person submitting the form. Other options might be email address or social security number.

In the Key Field Name space, you should enter the name your have given to field in the form.  You can see in the graphic below how the key field will help you identify the form in the list provided in EZ-FormManager.